Agency Anchor WordPress Theme
Build the perfect new website for your digital or marketing agency today!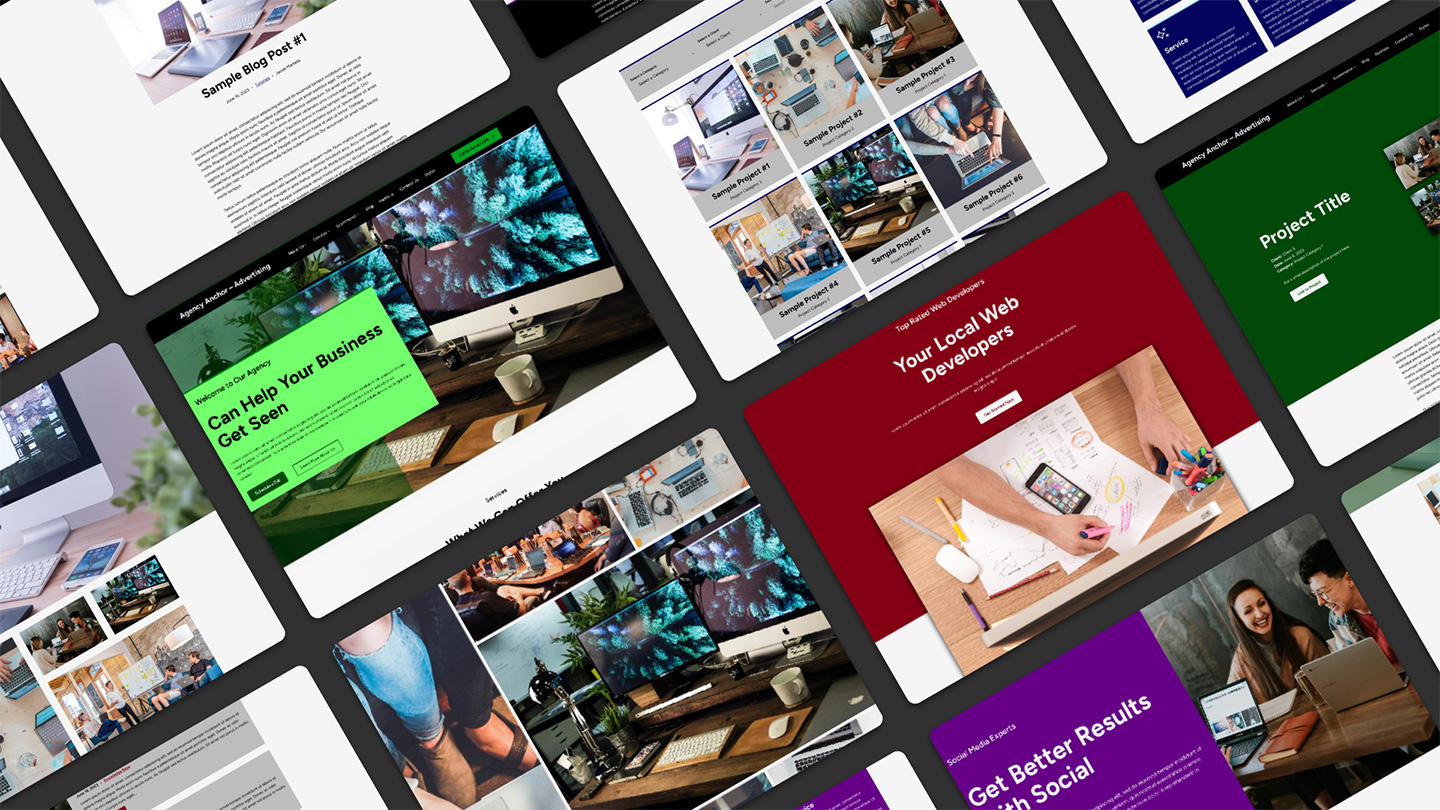 Take Your Agency's Website to the Next Level
Your website is one of the best marketing tools in your tool belt, especially if you're a web or digital agency. This is where you can show potential clients what you can do for them and display some of the amazing work you've done for others in the past.
Agency Anchor can help you craft the perfect website that highlights all of the great work that your agency does. You can use the projects post type to display previous projects to show what you can do. You can use the many different patterns to create unique pages, or you can choose from pre-built page patterns to create a new page in just seconds.
Plus, the theme has support for both WooCommerce and Easy Digital Downloads, so you can sell services through your website, making getting paid so much easier on both sides.
And with a variety of colors and fonts included with the theme, you can quickly customize your website looks all without having to worry about messing with code.
Agency Anchor will help you create the website that will get you more clients working with you.
Details
Version: 1.0
Requires WordPress Version: 6.2
Tested Up To: 6.2.2
Requires PHP Version: 7.4
Level
Gold
Tags
agency, marketing, services
Required Plugins
Crosswinds Blocks
The Icon Block
Suggested Plugins
Block Visibility
Yoast SEO
Google Site Kit
Gravity Forms
WooCommerce
Easy Digital Downloads
Showcase Your Agency
Create an Dazzling Website for Your Agency
Your agency deserves the best website possible so potential clients can see what you can do to help them. And Agency Anchor can help you build that website. With the patterns, styles, colors, fonts, templates and more, you'll be able to craft a website that brings in more clients.
Display Your Best Projects and Clients
Show potential clients the amazing work you've done with Agency Anchor. The theme utilizes a project post type where you can add in the best projects you've completed in the past. And the patterns and templates will allow you to let your previous projects shine on your website.
Add in a Blog to Show Your Expertise
In addition to your previous projects, you can also use the blog to also show your expertise. Agency Anchor not only supports blog posts on your website, but also comes with a number of patterns that allow you to show them on any page you want.
Show and Tell People What You Can Do for Them
Between the projects you can add, photo grids and text and media patterns, you can use your website as an opportunity to show (not just tell) people what you can do for them if they hire your agency.
Grow Your Agency
Create Pages That Get Conversions
The goal of your website is to convince people looking for your services to choose your agency. The theme does just that. Between the patterns you can use, colors you can change and everything in between, you can craft the best services pages that will convert visitors to clients.
Over 200 Patterns to Choose From to Create Great Pages
Want to show a handful of your best projects? Want to quickly show some of the services that you offer? No problem! Agency Anchor comes with a wide array of patterns you can use to build any page you need quickly.
Or Use One of the Many Page Patterns to Create an Entire Page with One Click
Build your homepage, team page, contact page or a landing page with just one click with the many page patterns that come with the theme. Just find the pattern you want, change the text and images and you're good to go!
Let Your Imagination Run Wild
But you're not just limited to what the theme comes with. You can use various patterns to build your own sections with different layouts. You can create new things in the site and block editor and see what works. At the end of the day, the sky's the limit with what you can do!
Make Your Website a One-Stop Shop
Agency Anchor allows you to create a website that's more than just a simple website with a lead generation form. By using the recommended ecommerce plugins, you can actually sell services or even digital products right from your website to really make it a one-stop shop.
Sell Your Products and Services on Your Website
Want to sell services through your website to make payment easy? You can with Agency Anchor! The theme supports both WooCommerce and Easy Digital Downloads so setting up either one will be easy and quick.
Create Custom Customer Dashboards
You can also create a custom customer dashboard that shows the products they've bought, their subscriptions and even add in features like your latest blog posts, tips and a contact form.
Unlimited Customizations
Control Every Part of Your Website Right From the Dashboard
Customizing your website with Agency Anchor is super simple. You can use the WordPress site editor to change the colors and fonts used throughout your website. Or you can change the many templates that come with the theme. You can make your website truly unique right from your dashboard.
Easily Add in Your Own Brand Colors and Customize Your Fonts
Your agency's brand colors are a key part of your website. And customizing the colors on your website is a breeze with Agency Anchor. You can add them right from the site editor and they'll change across the entire website. Easy as that.
Change the Header, Footer and Any Templates
You're not just limited to the header, footer or other template choices that were made a while back. You can customize it all right from the sidebar. So add a call to action button in your header. Change the layout of your footer. Make a bold change to the blog post template. It's easy to do!
Build the Website You Want to Create
At the end of the day, Agency Anchor gives you the tools to build the website you want to create for your agency. You don't need to hire an outside developer. You can use the patterns, colors, templates, fonts — everything — to truly build an amazing website.
Performance
Performance is key in today's online world, and Agency Anchor is built for speed. This theme will help you keep your website loading as quick as possible. With lean code and utilizing new WordPress styling tools, you won't have to worry about your website taking too long to load.
Accessibility
Your website should be accessible to everyone browsing the internet. And Agency Anchor can help you make sure it is. The theme is built following the WCAG 2.0 standards so that everyone can use your website.
Responsive Design
Websites are viewed on many different sized devices. So it's important that your website looks great on a laptop, tablet or mobile device. Agency Anchor will help you build a responsive website that looks amazing on all of those devices.
Compatible with Major Plugins
Plugins help you add great functionality to your website. Agency Anchor is compatible with all major WordPress plugins — Yoast, WooCommerce, Gravity Forms, WP Forms and more.
Translation Ready
Agency Anchor already comes translated in a variety of different languages, including Spanish, French, German and Italian. And it's ready for you to translate it into a different language using Loco Translate, WPML or any one of the WordPress translation plugins.
Quality Code
Agency Anchor is built using the best WordPres and web development practices. You can always depend on the code to be secure and dependable for your website.
Rapid Support
Run into an issue with Agency Anchor? No worries. Using the Report an Issue form, you'll get rapid support for any bug you discover. I work to get things fixed up as quickly as possible to keep your website running.
15-day money back guarantee
Want to give the theme a worry-free test drive for your website? If you give Agency Anchor a shot but find that it does fit what you need it to do, you can get your money back within 15 days of purchase.
Automatic Updates
Your yearly or lifetime subscription gives you access to automatic theme updates. You'll be able to easily update the theme with just a few clicks right in your WordPress dashboard. It's the perfect way to make sure you're up-to-date with Agency Anchor.
Live Preview
See What You Can Do with Agency Anchor!
Agency Anchor is a versatile WordPress block theme that really allows you to craft a great agency website without touching any code. See what you can do with the theme on your website by checking out one of the demo sites below.
Get Started Today!
Upgrade Your Agency's Website Today!
Are you ready to create an amazing website to showcase what your agency does? Awesome! You can get started by purchasing Agency Anchor below (it automatically comes with the Crosswinds Framework theme and Crosswinds Blocks plugin). Or you choose from one of the plans if you want to create more websites with the Crosswinds Framework.
Purchase Agency Anchor
Create an amazing portfolio website with this single site license for the Portafoglio theme.
Business
Perfect for any agency or developer that wants to quickly create new websites for their clients.
$125/year
5 Sites License
---
Premium Support
---
Access to any pro plugins that are released
---
Access to all themes
---
Onboarding sequence to help you get the most out of Crosswinds Framework
---
15-day money back guarantee
Most Popular
Agency
Perfect for getting started creating websites for others.
$200/year
Unlimited Sites License
---
Premium Support
---
Access to any pro plugins that are released
---
Access to all themes
---
Onboarding sequence to help you get the most out of Crosswinds Framework
---
15-day money back guarantee
Lifetime
Pay just one time and get access to everything the Crosswinds Framework has to offer forever.
$499/one time
Unlimited Sites License
---
Premium Support
---
Access to any pro plugins that are released
---
Access to all themes
---
Onboarding sequence to help you get the most out of Crosswinds Framework
---
15-day money back guarantee
You must log in to submit a review.